top celebrity fashion 2011
Saturday, May 7, 2011
Prince William and Kate Middleton became husband and wife - and the Duke and Duchess of Cambridge - at London's Westminster Abbey this morning.
The royal wedding, pegged the greatest and grandest affair since Prince Charles and Princess Diana's 1981 nuptials, marked a magical chapter in their fairy tale love story, which began at college and will continue throughout their lifetime.
Here's a look at Kate Middleton's wedding dress ...
The couple wed in a traditional ceremony Friday.
"I, William Arthur Philip Louis, take thee, Catherine Elizabeth, to be my wedded wife, to have and to hold from this day forward, for better, for worse," he vowed. "For richer, for poorer. In sickness and in health. To love and to cherish, till death us do part."
With brother and best man Prince Harry, in the uniform of Captain of the Household Cavalry, by his side, William wearing the scarlet uniform of the Colonel of the Irish Guards, slipped a traditional Welsh gold wedding band on Kate's finger.
"With this ring, I thee wed," he said.
The couple also wrote their own prayer for the grand occasion:
"God our Father, we thank you for our families; for the love that we share and for the joy of our marriage. In the busyness of each day keep our eyes fixed on what is real and important in life and help us to be generous with our time and love and energy."
"Strengthened by our union help us to serve and comfort those who suffer."
Middleton, 29, arrived to the Abbey in burgundy-and-black-colored Rolls-Royce, not a carriage, opting for a "lower-key arrival," a palace source said.
Guests such as Elton John and Victoria and David Beckham, just a few of the A-listers among the 1,900 who received an invitation, sat in chairs faced inward toward the aisle as she walked toward William during the hour-long ceremony.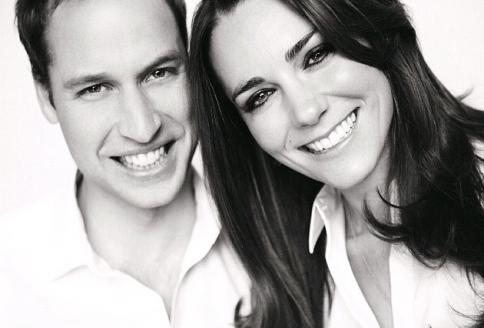 Afterward, Queen Elizabeth II was set to host a post-wedding breakfast at Buckingham Palace for 600 guests. At 7 p.m., Prince Charles will throw a dinner dance for about 300 guests in another one of the palace's state rooms.
Before the wedding, the bride spent her last night as a single woman in the Royal Suite of the Goring Hotel, a stone's throw from Buckingham Palace. William, meanwhile, stayed with his father and brother at the Clarence House.
Another magical moment is still to come.
The couple are expected to arrive on the balcony of Buckingham Palace at 1:25 p.m. for a much-anticipated kiss – in the very same spot that William's parents, Prince Charles and the late Princess Diana, famously kissed 30 years ago.
Will bring you that and a full assortment of Royal Wedding photos later today. For now, send your congratulations to the prince and princess below!
Friday, May 6, 2011
Dear friends, I have to admit that I was really spoiled by some of my blogfriends the passed days!
My friend Monika of Splendid Willow, a blog that a lot of you will know yet, asked me to participate to her 2 cents series. She invited some of her blogfriends to tell about an interesting topic.
On her post 2 Cents on antiques some bloggers tell about antiques close to their hearts. So nice to hear about these wonderful pieces of antiques our blogger colleagues are fallen for!
Thank you so much Monika for including me in this most interesting post of you!!!
This Gustavian bench is a piece of antiques close to my heart.
To read about our favorite antiques, visit Monika HERE.
_____
Another blogriend I have to thank is Jérôme, the author of the beautiful Belgian blog Maison de Lin.
Jérôme wrote about my blog and my company earlier this week.  Jérôme started his blog at the beginning of this year and is quite new in the blogosphere. Jérôme is living in the French speaking part of Belgium and love all things beautiful. He loves architecture and interior design. And as me he has a passion for castles!
Starting his blog he wanted to share with us the renovation process of his home. So for those who love Belgian design or who are fond of castles, you should visit Jérôme's blog Maison de Lin.
This is a picture of a realization of my company Lefèvre Interiors, that Jérôme posted on his blogpost this week.
Thank you so much Jérôme for posting this blogpost!!!
If you are interested in the article Jérôme wrote about me and my blog, click HERE.
The images on below I took from the blog Maison de Lin.
Enjoy!
Jérôme's garden.
The guestroom that Jérôme recently has renovated.
Beautiful castles to discover!
And gorgeous interiors.
And wonderful gardens!
_____
And I wish all mothers A HAPPY AND WONDERFUL MOTHER'S DAY!
xx
What's your favorite antique? Several other fabulous bloggers and I were recently interviewed about our favorite antiques over at the wonderful blog, Splendid Willow. Monika and I are like family – we love the same style (though she is younger and much cooler than I am)!! Stop over and read thoughts from several top bloggers and check out Monika's wonderful blog. You can read it HERE.
I am working on renovating my master bedroom. I have long been enamored with beds that are built in or tucked into wall cabinets. This image above from Tracery Interiors has been in my inspiration file for quite some time. I adore color and patina on the cabinetry. I also love the softness the upholstered headboard adds.
I saved this image from Pursley Architects several years ago. I have always admired the way the architect created a more cozy space in the bedroom by adding the free standing wall. The u-shaped wall creates a wonderful coziness to what could be a large impersonal space. The addition of upholstered walls, headboard and oval mirror really caught my eye. Lovely!
Here is a wonderful wood built in area by Windsor Smith. The cabinetry is built all around the room and creates the arched bed area. Look more closely and you see it is actually closets. In an old home like mine this is beautiful way to add more closet/storage space. The mirrored panels behind the bed also add the illusion of a larger room and create a spectacular reflection for the crystal sconces.
This bedroom from Skona Hem shows a less expensive way to get that built-in, tucked away feeling. Simple linen panels add a special ambiance to this gorgeous room. Also notice the spectacular mirror and Swedish fireplace. I adore this room.

What do you think readers, which is your favorite?
(All content copyrighted by Willow Decor and not be copied without written permission)
The Kentucky Derby is one of my favorite events to watch! I actually have been to a prestigious Keeneland Horse race, but the Derby is on my bucket list. If you are having a gathering to watch the race from your home, here are some fun ideas for your party.

A tradition associated with the Kentucky Derby is the mint julep, so you must include juleps on your menu or go with

Mint Julep cupcakes.
Another tradition is Hats Hats and more Hats ~ the bigger the better!